Appointment management with Calendar+
Extend your portal with a central and comprehensive appointment management. Because collaboration always requires coordination. The oneAssist Calendar+ web part is an integrated extension, explicitly developed for Microsoft SharePoint.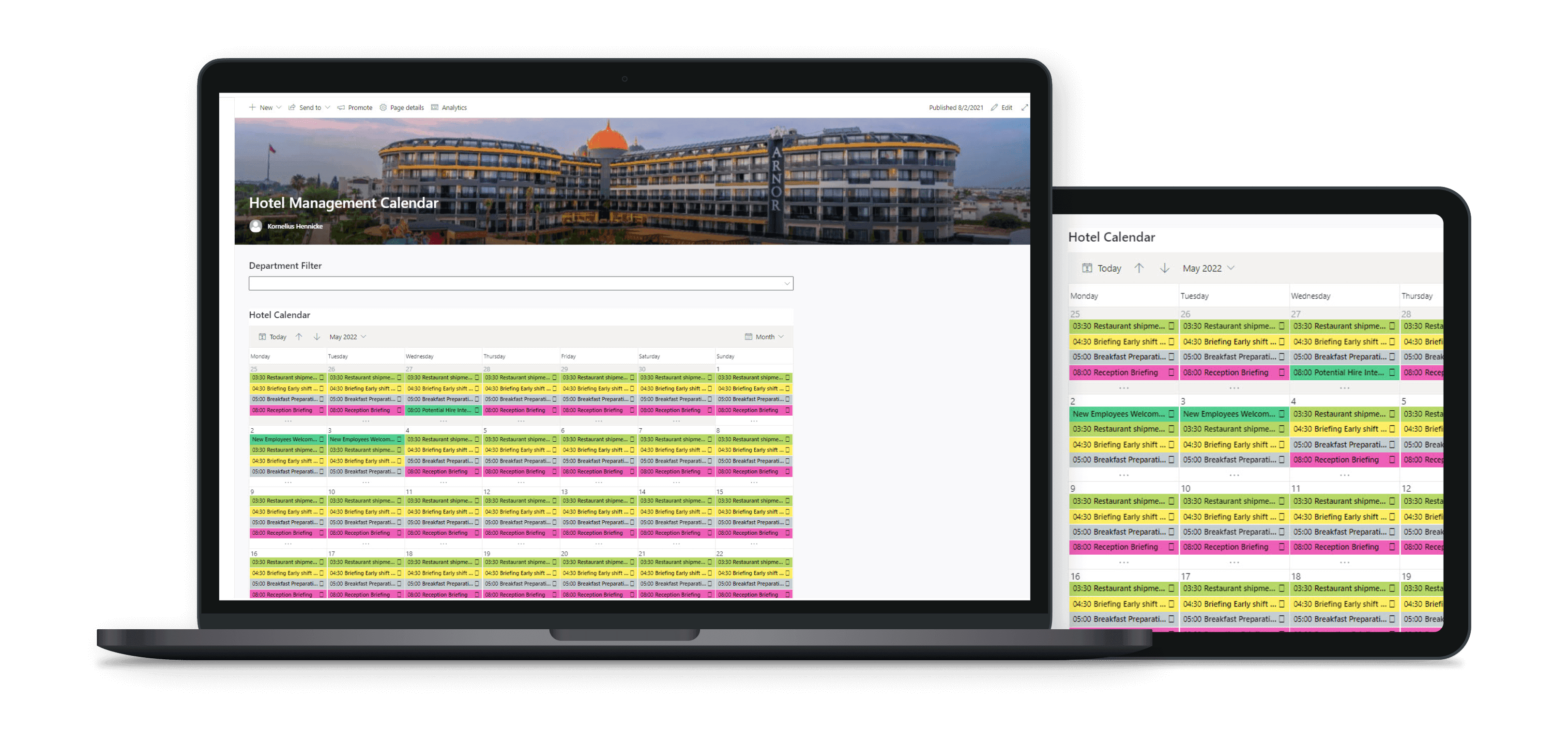 One date, multiple dates
You can attach any files to your appointments, additional information complements your appointments and can always be exchanged so that your appointments remain up-to-date.

Targeted search of events in the calendar
You can filter and search for specific dates or participants. By connecting with other web parts this works without reloading the website.

Overview by categorization
You can categorize, sort and visually tag appointments. Your user-defined categories in the style of Microsoft Outlook can also be used synchronously by others.
Because collaboration requires coordination!
In today's world, companies can't afford scheduling clutter and misplanning. In order to coordinate the abundance of appointments, personal and digital meetings and their participants, a structured overview is needed for everyone. If this is not available or not always up to date, parallel appointments or missed meetings can quickly occur. A particularly intensive coordination challenge that can quickly go wrong.
With the oneAssist Calendar+ web part you get a comprehensive digital calendar that meets this challenge. It can be embedded directly on your Microsoft SharePoint site. In the future, coordinate your employees effectively by getting a complete overview of all appointments in one place. In addition, all related information and file attachments are displayed for each appointment. Thanks to many options for categorization and visual labeling, your appointments will always remain clearly arranged.
Expand the possibilities of your calendar by using it actively and smartly. The oneAssist Calendar+ web part as your central appointment planner. In addition, this content can be integrated into the Outlook of the individual user.
Your calendar can do more!
Extend your portal with a digital calendar that can do more than just centrally manage your appointments. The Calendar+ web part can be embedded directly on your Microsoft SharePoint site and integrated into your Microsoft Outlook.

Your advantages with the Calendar+ web part
Planning ahead for longer-term events

Reconciliation of attendances and absences

Overview of all appointments of colleagues & colleagues at a glance

Easy navigation between time periods

Uniform scheduling of series of appointments

Familiar environment for Microsoft Outlook-User

Calendar+ web part features
Appointment management in Microsoft SharePoint

User interface based on Microsoft Outlook

Synchronizable with Microsoft Outlook

Integration of other calendars

Create & edit appointments

Display of all event information at a glance

Grouping of appointments, events or seminars

Upload file attachments from mails directly from Microsoft SharePoint