Find exactly what you're looking for with Filter+
Extend your portal with an additional input field for intuitive searching & combined filtering. The oneAssist Filter+ web part is an integrated extension, explicitly developed for Microsoft SharePoint.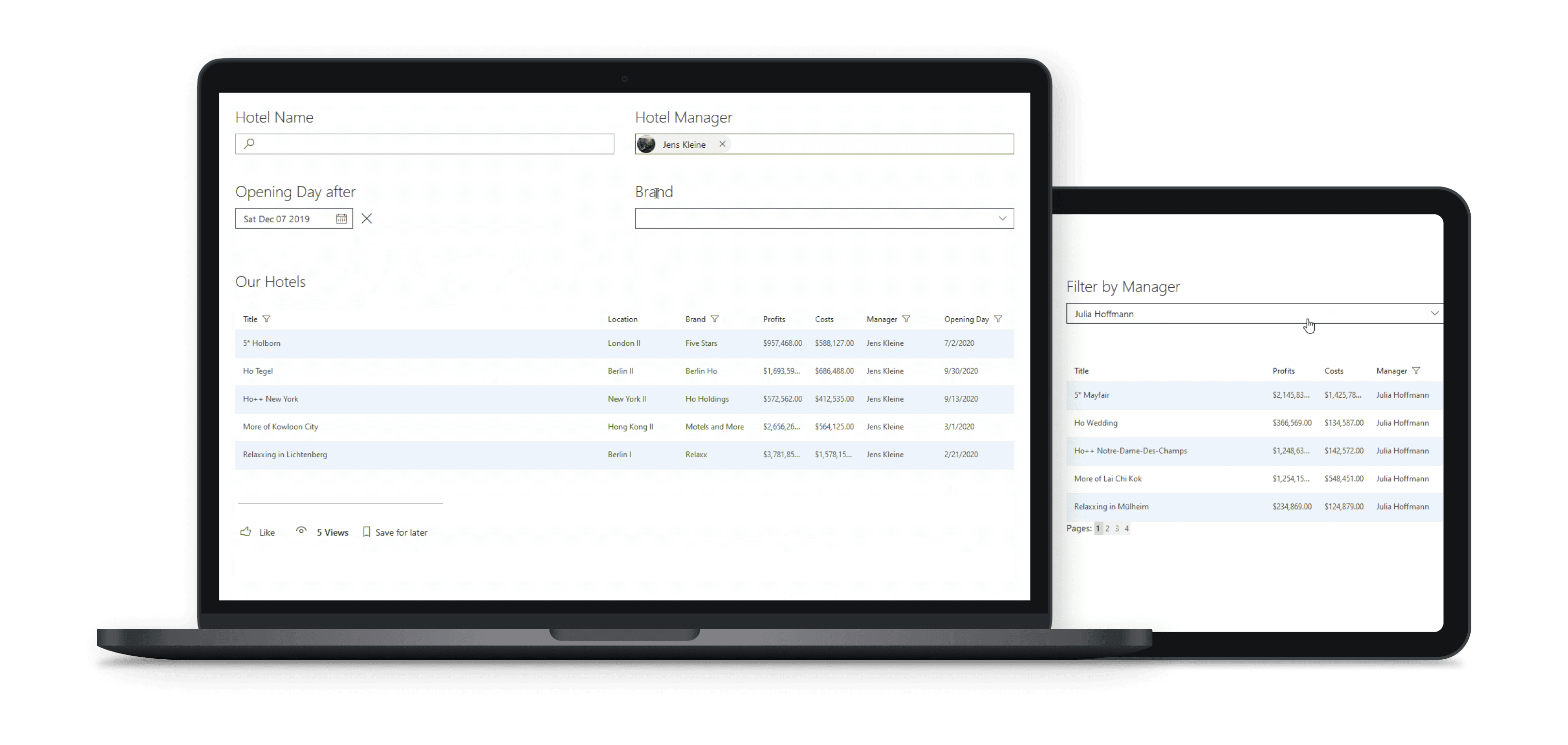 Work with comfort and ease
With true flexibility, you make your operations even more convenient. The Filter+ web part can be applied to the entire portal, which adapts dynamically.

Individual surfaces for individual requests
With the Filter+ web part you search and filter with maximum individuality. You decide at will how many input fields you want to use simultaneously or separately for your search.

Design options for more freedom
The additional input field of Filter+ enables tailored and customized search queries. Enjoy this freedom in the way you work with your data & information.
Intuitive searching & combined filtering
In order to extract information from your data, relevant content from it must be easily retrievable. Unfortunately, Microsoft SharePoint doesn't allow you to apply multiple filters at once, resulting in a cumbersome search through the data library. With a bit of luck, the required information will be found in time - or not. An ineffective way of working that no company can afford.
This is where the oneAssist Filter+ web part for Microsoft SharePoint comes in: it provides you with an additional input field for applying filters and search queries that can be combined in any way. With the help of these additional, useful search functions, you can perform work processes in a more targeted and efficient manner. You can search lists, documents, or diagrams for specific content, and customize them clearly and conveniently.
This results in clearly arranged portal pages that support you in your work.
Filters that can do more.
The oneAssist Filter+ web part for Microsoft SharePoint offers you an additional input field for the application of filters that can be combined as desired and useful search functions. This allows you to customize lists clearly and conveniently.

Your advantages with the Filter+ web part
Overview of a large quantity of information

Filter, conveniently according to your ideas

Efficient search & retrieval of relevant information

Maximum individuality, flexibility and freedom

Target-oriented work processes

User friendly usage

Filter+ web part features
Additional input field for searches & filters that can be combined as desired

Various input options for search queries

Synchronous application of multiple filters

Customization of lists, documents & diagrams

Interaction with other oneAssist web parts

Multilingual configuration interface